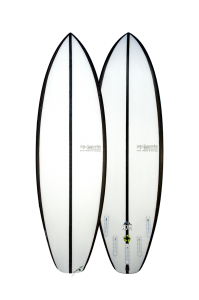 Developed with team rider and local South Bay stand out Hunter Jones this is a true utility board. This shape bridges the gap between a groveler shape and a traditional high performance shortboard. The HJM is your ideal board for all conditions. This board works well in knee to overhead surf, but excels in mid sized waves.
The HJM has a flatter deck and just the right width in the nose to make it versatile in all surf.  With a wide point pushed slightly forward it also features a wider tail block which is pulled in with a bump to rounded squash/rounded diamond tail. This helps break up the outline while creating key pivot points for better rail to rail transitions.
The HJM has a magical combination of bottom contours that have proven insanely successful over the past two years developing this shape. Relaxed nose entry rocker with vee entry to single concave up under the chest transitioning into slight double concave through the Fins and vee off the tail equals increased lift and drive.
The more elliptical outline (wider nose and increased tail block) elongates the rail line in the water which also helps give this shred sled its lift off.
Best ridden 2-4 inches shorter than your traditional shortboard. Available in a squared swallow tail or bump squash tail.
All skill levels.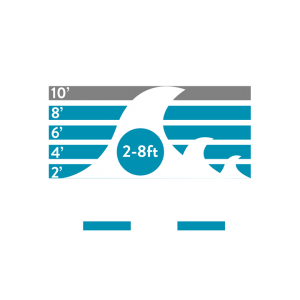 DIMENSIONS
5'3″ x 18 1/4″ x 2 1/8″ x 23CL
5'4″ x 18 1/2″ x 2 3/16″ x 24CL
5'5″ x 18 3/4″ x 2 1/4″ x 25.5CL
5'6″ x 18 7/8″ x 2 5/16″ x 26.5CL
5'7″ x 19″ x 2 3/8″ x 28CL
5'8″ x 19 1/4″ x 2 3/8″ x 29CL
5'9″ x 19 1/2″ x 2 3/8″ x 30CL
5'10" x 19 1/2″ x 2 7/16″ x 31CL
5'11' x 19 5/8″ x 2 1/2″ x 32CL
6'0″ x 19 3/4″ x 2 1/2″ x 33CL
6'1″ x 19 3/4″ x 2 9/16″ x 34CL
6'2″ x 19 7/8″ x 2 9/16″ x 35CL
6'3″ x 20″ x 2 5/8″ x 36CL
6'4″ x 20 1/4″ x 2 5/8″ x 37CL
6'6″ x 20 1/2″ x 2 3/4″ x 40CL